Two Dental Offices in
One Convenient Location!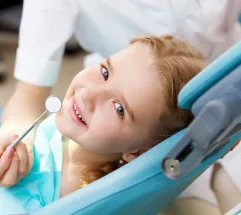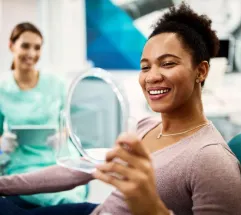 Serving Families for Over 45 Years
All Ages. All Stages. All Smiles.
We Have the Right Treatments For All
Preventive Dentistry
We provide excellent preventative care, including exams, cleanings and digital x-rays. Early detection of dental problems is essential for optimal oral health. The American Dental Association recommends that all patients schedule regular six-month dental check-up.
Pediatrics Specialist
Children are constantly in a state of change. Their dental health needs can be different than those of adults. That's why we have two certified Pediatric Dentistry Specialists to ensure your child receives the care they need for their healthy smile.
Hospital Dentistry
Some cases need to be handled in a hospital setting. This may be due to trauma, a patient's special needs, or a complicated procedure. Whatever the cause, our doctors work can provide care within a local hospital setting to meet your dental health needs.
Reconstructive Dentistry
Our doctors can provide reconstructive treatment options for chipped, cracked, broken, or missing teeth. In some cases, we can complete oral surgeries as needed. We will work with you to reconstruct your smile and restore your dental health.
Implant Dentistry
Dental implants provide a safe, durable replacement for missing teeth. Dental implants function like natural teeth and have a very natural appearance within your mouth. We make use of the latest techniques and technologies that allow efficient, stress-free treatment.
Cosmetic Dentistry
Cosmetic dentistry offers a variety of treatments designed to restore the beauty of your smile, which can improve your self-confidence and make you want to smile more. Our computer-imaging system can allow you to see your likely results before deciding on treatment.
Meet Our Dedicated Dentists
Improving the Dental Health and Wellbeing of You and Your Family
What Our
Patients Say About
Our Services
4.9 Overall Rating,
Based on 250+ Google Reviews.
Brooklyn M.
Funny to say I enjoy coming to the dentist. The staff is so sweet and always goes out of their way to make me comfortable. I have never had a bad experience in my 10+ years of coming to Fountainhead Dentistry.
Amy P.
Great staff! I love visiting this office. Dental hygienists are kind and always provide excellent personalized service. Dentists are top notch. Always happy to see me and literally make me smile.
James T.
They put patient care first and I'm happy to call Fountainhead Dentistry my dental choice. Great hours, same staff for years and they truly care about my dental health.
Contact
Fountainhead Dentistry's Hagerstown Dentist Office